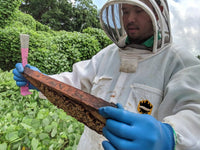 Our Mission
Honey Next Door keeps bees in local Atlanta neighborhoods to provide hyperlocal honey products and to keep a healthy population of honeybees in the urban ecosystem. We own and manage beehives in Buckhead, Candler Park, Oakhurst, Druid Hills, Inman Park, Virginia Highlands, Brookhaven, Morningside, Pittsburgh, Sandy Springs, East Atlanta Village, Grant Park and Decatur.
We sell chemical-free bee products like honey, soap, beeswax candles, and lip balms. We plan to include products like liquid soaps and lotions to the product line soon.
Buy honey from someone that can show you their hives!
Where to find HONEY NEXT DOOR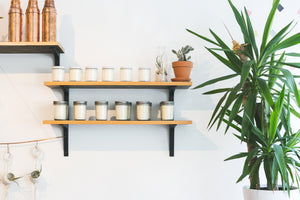 Local Merchants
The Beehive - A co-op in the Edgewood Retail District that sells everything we make
Wahoo Wine and Spirits - honey and creamed honey
Murphy's - they sell the honey made right next to the restaurant
Virginia Highland Ace Hardware - honey and candles
Just Add Honey - honey
Jayida Che - honey
Jim Adams Farm & Table - honey and creamed honey
Buenos Dias Cafe - honey
Tower Wine and Spirits - honey, spicy honey
Brookhaven Wines - honey
Three Parks Wine Shop - honey and lip balms
Barcelona Vinoteca - honey, creamed honey and lip balms
The Chop Shop - honey, creamed honey and Tupelo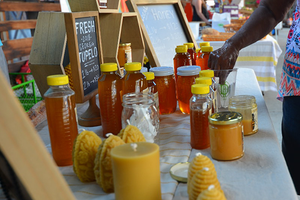 Farmers Market Schedule