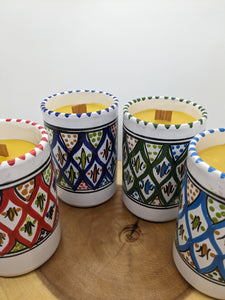 We've imported gorgeous ceramic containers directly from a small Tunisian artisan shop in Sfax, Tunisia which hires only local disadvantaged women to help raise them out of poverty.
To them, we've hand poured our beeswax and added essential and fragrance oils to make our newest container candles.  Once the candle is finished burning, you can use the ceramics for cups, pots for succulents or other plants, refill with wax to reuse as a candle, etc.
Containers are approximately 5" tall and 3" in diameter with over 8 ounces of beeswax and a 80 plus hour burn time.
Queen Bee: warm spice, tonka, vanilla, cocoa butter, sandalwood
Tupelo Bloom: green apple, citrus, cactus flower
Georgia Peaches 'n Cream: peaches, cream, vanilla
Coffeehouse: espresso, baked goods, oak barrel
Lavender: lavender essential oil
Citronella: citronella essential oil(outdoor mosquito repellent)
Kauai(Anthropologie Volcano): citrus, tropical fruit, green apple, sandalwood
Sunday Morning: bourbon, mahogany, pipe tobacco, leather